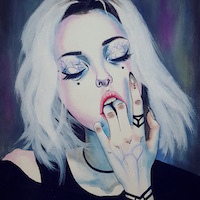 TITLE/NICKNAME: Willow. The Holodrum Witch.
RACE: Twili.
AGE: 23.
GENDER: Female.
SEXUALITY: Bisexual.
PERSONALITY DESCRIPTION: An introverted creature, the witch cares not for social pleasantries. Enjoying time away from society, the easiest way to break her out of her shell is by baiting her innate antagonism. Not only is Willow opinionated, she is defiantly vocal. She does not subscribe to the intrinsic worth of the royal oligarchy. Hypocritically enough, Willow is astoundingly self important and intrusive, forcing her way into conversations that do not involve her. Fortunately for others, it takes a certain level of provocation to coax her into this behavior.  
Willow is impatient, moody, and easily riled up by snide remarks. She holds no notable disdain for liars. After all, she, too, is deceptive and known to habitually, and unjustifiably, fib about the unimportant. The witch particularly has an issue with silver-tongued devils who communicate solely through subtext. She understands the power of language, and its ability to manipulate others. In fact, the witch draws many parallels between it and spell-casting. Nonetheless, passive aggressiveness is a power play she refuses to submit to.
What's worse is when this behavior comes from a coward, who is too afraid to otherwise express themselves. The witch blames the large, governing bodies for this passive disposition, as sociopolitical snake-speak is often embraced by the weak. These types will cling to any tools they can, while refusing to better themselves, showing how docile they truly are; the illusion of power is enough to stave off their hunger. As a glutton, she has never had the privilege of a full stomach.
Despite her impulsive behavior, Willow is rational, creating a decisive, headstrong individual. She is able to perform well under pressure, even if at odds with her allies. She has no issues with the idea of cooperation, but one of her largest weaknesses is her capriciousness, impeding her ability to carry out orders -- trusting her instincts over the judgement of others. Selfishly prioritizing her own rationale tends to strain her relationships.
And this weakness bleeds into her personal life. She has a difficult time creating intimate, emotional bonds with others. If she has any consistency, it's in her ability to keep her friends at an arm's length. Despite her generally reclusive nature, when she finds someone she does enjoy spending time with, she'll often search them out. Willow will share things she's interested in with those she considers close, including, but not limited to: poetry, music, and philosophical musings. The witch will value their opinions higher than others, and truly cares how they view her, but not enough to dramatically change who she is.
Willow has reasonable expectations for herself, but is too comfortable with failure. She understands it is a natural part of life, and does not dwell on the inevitable. Sometimes, a tactical retreat is necessary. This mindset breeds her excessive laziness, causing her to shirk her responsibilities. She is okay with disappointing people -- they'll get over it. And far too often, the witch will fail, despite its preventability. Coupled in with her reoccurring feelings of sadness, she will sometimes just not do things she really wants to in favor of doing nothing. And this is the type of behavior she expects from others, never becoming too reliant on those around her, or upset when they do inevitably let her down.
LIKES:
☼ Poetry. The witch, too familiar with incantations, finds pure expression to be a refreshing change of pace. While she enjoys consuming poetry, she is not a writer.
☼ Asymmetry. While symmetrical designs are appealing, the most satisfying designs are the artistically lopsided. Because she has high standards, she widely enjoys symmetry, but deeply loves specific, asymmetrical bodies of work.
☼ Animals. Due to long term familiarity, she has a natural chemistry, and adoration, for wild creatures. She is particularly fond of the hurt and abandoned, often too inviting.
DISLIKES:
☼ The overly punctual, since they are possibly the most annoying people she's encountered. They push their standards onto others, which is detestable.
☼ Passive aggressiveness. Actually, scratch that. These are the most annoying people she's met. Instead of pushing standards onto others, they have none for themselves.  
☼ Children. They are such unbearable, underdeveloped creatures, she does not consider them people. She understands their innate worth, but it does not mean she enjoys spending time with them. There are rare exceptions that improve the quality of her life.
☼ The elderly. The elderly are overgrown, dependent children. They demand respect based on what they have accomplished, but they have long past their usefulness to society. She honestly just doesn't want to take care of anyone other than herself.
MOTIVATIONS:
☼ Power. Obsessed with power and ability to do, she focuses on locating the Fused Shadows, and additional Triforce Shards, to amplify her innate powers.
☼ Independence. Stemming from her quest of power, she longs for the day where she is not restricted by societal norms, writing them off. Only the easily content are satisfied.  
☼ Healing her sickly father. Eventually, she does want to restore her father's health. However, she is not so determined that she values it more than her own, selfish desires.
FEARS:
☼ Intimacy. Emotionally guarded, she is hesitant to open herself up to others. She is also uncomfortable with those who show their vulnerability to her. She prefers her friendships at a pleasant distance.
☼ Enslavement. She does not want to be controlled. She avoids many situations where she relinquishes her autonomy for prolonged periods of time. She's even hesitant to follow orders, often trusting her own intuition.  
☼ Commitment. A whimsical creature, she does not want to base her life around others or multiple, longstanding objectives. This largely influences -- if not the cause of -- her changeability.
HISTORY: Willow's father, Matu, was an adventurous man. From a young age, he went to and from The Twilight Realm to visit Hyrule. The contrasting lifestyles were a refreshing change of pace. He learned the intricacies of the world and eventually found many friends. He explored dungeons, beheaded monsters, and saved many a damsel. Unfortunately, while the rest of his party found love, and settled down, he could not find his other half in Hylian women. There was nothing wrong with them, they were beautiful creatures -- he laid with quite a few in his day -- but there was fundamental incompatibility. As a result, he spent the later years of his early adulthood in The Twilight Realm, indulging in arts and his own culture. Having spent so much time with Hylians, Matu had become disconnected.
Eventually, he came across a woman of similar age and they hit it off. They had similar taste, with a few, notable disagreements. She preferred harsher colors, while he preferred the subdued. Eventually, he introduced her to his world of adventure, and she fell in love with it. She became familiar with the dark arts, which led to some rough patches between the two, but they worked through it. And while he sometimes still brought along his guild, they were all past that part of their lives. But Caligo, Matu's lover, was met with overwhelming praise. They would eventually return to The Twilight Realm and consummate their love, dedicating their lives to each other.
Unfortunately, what is the hero's journey without tragedy? The dark arts she had dabbled in came with a price. Caligo had been blessed with twins, but they were both too individually weak to survive. Doing what she did best, she fed one of her children to the other. However, this came at time where she was weak and had used the remainder of her strength to coax her. She would survive until childbirth, but not without a few words to Matu. She warned him of the dark arts, and how alluring they were to people in need. She knew he was a driven, stubborn man and asked him to not succumb to his temptations. He made no promises.
She passed. He mourned. And in the depths of her death, he found the light of his life. A parent's love for their child was incomparable. He spent her early years with his grandmother, ensuring she had a strong, womanly figure in her life. But eventually, when it came to it, he asked if she would like to accompany him to Holodrum. It was her choice and he knew she didn't understand the consequence, but that was the trick to it, wasn't it? Willow agreed. She would love to see the world her father adventured in. She would get to experience the same things her mother had, and grow closer to her through this. Little did she know of the hardships that would await them and the reality of world.
Moving into a small, barely hospitable shack in Horon, it took her awhile to get acclimated to her new life. Her father always seemed busy and focused on other things, although he never left her alone. He always had his reliable, guild-brothers keep her company and tell stories of their adventuring days. With a twinkle in her eye, she fell in love with the world and was determined to explore it. She would sometimes sneak out at night, with the rest of the mischievous children of Horon. Willow grew up learning of social outcasts and having to survive on grit alone. She became tolerant of all kinds of folk, but had to respect herself enough to not let unwanted sexual or violent advances deter her from her existence. Far too often, her exotic appearance gave her unwanted attention. But she felt that was an excuse, she saw and defended too many Hylian girls that were also pressured by the male gaze.
As she entered adolescence, Matu brought her into his world. He spoke of the black market he came here for and his goal to bring back her mother to life. Unfortunately, the dark arts required a life for a life. He had been collecting magically infused parts and studying, but he didn't have the aptitude to perform it alone. And he bargained she had her mother's mind. Throughout the years she eventually become the mind behind the operation. She wasn't sure if this aptitude came from her young mind or natural affinity with the arts, but she relished the power all the same. As her father's health deteriorated, he took a step back, focusing on finances, while she fixated on getting things done. As the rest of the hoodlums she grew up with began to intermingle with the black market, and take seats of power amongst themselves, her history with them led to many advantageous situations. They learned to benefit from one another, while snuffing out competing powers.
Eventually, she resigned. She allocated her power amongst her allies and left on good terms. Willow's father needed to be cared for, so they immediately returned to The Twilight Realm. Her grandmother did the best she could, but she was unable to cure his illness. Instead, she continues to treat it and slow the progress of Matu's inevitable death. Willow tried to spend time The Twilight Realm, but became too anxious. Learning of the ancients, she found studying the Dark Interlopes therapeutic. As she learned of the Fused Shadows, she could heard its call. Answering, she was drawn to Hyrule in pursuit of power. Little did she know, she had reached a false conclusion. She had pursued and found, what she was later discover was, a Triforce shard. Deciding there's no point in being stingy, she would add 'gathering Triforce shards' to her to do list. There was no such thing as too much power, not when it came to preserving her father's already decayed body. She would continue to search the island for him. At least, that's what she told herself.
HEIGHT: 6' 3"
WEIGHT: 166 lbs.
APPEARANCE DESCRIPTION: Willow has an oval face, with prominent cheek bones, and a narrow chin. Her dim yellow, deep-set eyes stare unimpressed at the people around her. Her face is littered with strong features, such as her pointed defiant nose, and full duckbill lips. Her eyebrows are a thick black, matching her roots, before contrasting the her smoky, white hair. She regularly wears her shoulder length hair in a messy bun, showing off her pointy, black ears.
Her sharp features are symptomatic of her petite physique. Her height and thinness are defining characteristics of her heritage, as is her gainsboro skin, which has a light tint of blue. Her left arm is partly black, unevenly stretching down to her wrist from mid-bicep. Her torso is partially covered, the black reaching over her shoulder, stopping mid-chest and back, a small oblong extending onto her midriff, slightly past her belly button. She has an additional knee-brace like patch on her right leg. She has markings across the darkest parts of her body, typical of Twili.
If her hairstyle was any indication, the witch is not one for upkeep. Hand-me-downs aplenty, she has an obvious preference for darker clothing, despite how beat up or worn down the it may be. Consistent with Twili fashion, there are markings on whatever she wears. And without regard for appearance, she carries herself with an incomparable, undeserved confidence. The witch may seem confrontational to the entitled, who see her for less than what she is.
The witch's body odor is incomprehensibly ordinary. Like every living creature, should she not shower or maintain her hygiene, she will stink. However, even with luxurious soaps and regimented cleanliness, there are few scents that linger for any meaningful amount of time. Despite this, she still bathes when she can, considering the act a necessary ritual in one's self care. Beyond that, she sees perfume as a gaudy misrepresentation of one's true self.
Willow's voice is primarily low and raspy, but due to her ever present sniffles, her S' are elongated. Otherwise, she easily dances between soft intricate whispers, and loud boisterous boasting. When projecting to a crowd, her impediment is notably reduced. An additional error in her speech is her inability to pronounce the letter Z. She can hear the difference, but others hear her lisp. While she is able to hold a note, she is by no means a capable singer.
Strength: Below Average.
Speed: Average.
Stamina: Average.
Mana: Excellent.
Intelligence: Above Average.
Please keep in mind that you are defaulted to starting with 2 common spells.
MAGIC TYPE: You may only start with one type of magic for now. Whether it be arcane or elemental, you may only choose one for now. You will have the ability to purchase or upgrade your magic to increase your range of types.
NAME: Name of the Magic Spell
RANK: Common, Uncommon, Rare, or Legendary?
CLASS: Offensive/Defensive/Etc.
DURATION/COOLDOWN: Please post how long this spell lasts and what the cooldown is per SC (spell caster) POST.
DESCRIPTION: A general idea of what the magic spell does.
PLAYER ALIAS: Newo
FACE CLAIM: Artwork by Harumi Hironaka
REFERENCE: Jensen
ALTS: N/A.