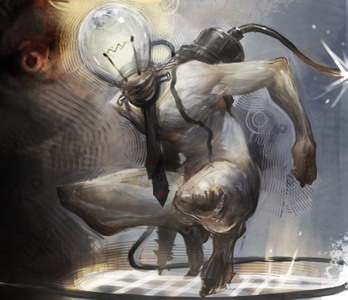 5' 11" || 180.34 cm || Living Object || Level V
Strength || 6
Constitution || 7
M. Affinity || 6
M. Resistance || 5
Dexterity || 7
Speed || 7
Stamina || 4
Impact (+2) || Extended (-2)
Wattson's body is better designed to impact and damage, than it is to deal with the excessive strain of additional weight.
Offensive (+2) || Defensive (-2)
Wattson is more skilled with offensive magics, opposed to magics that are defensive in nature. However, he shows no favor, nor struggle, with supplementary magic.
Acrobatics (+2) || Flexibility (-2)
Despite being a great acrobat, he is not as flexible as others of his talent.
Near (+2) || Far (-2)
His skill for close ranged accuracy far surpasses that of his long ranged skill.
Acceleration (+2) || Momentum (-2)
Despite it being easy for him to pick up speed, it's difficult for him to keep it over prolonged periods of time. He works best in bursts.

|| Non-Organic ||
Dr. Wattson is a living object and, therefore, not applicable to any natural or magical abilities that affect organic life. On the opposite end, abilities that would affect objects affect him. This is due to his body being made of a Wonderlandian, metal alloy. The only exceptions are his head and the various plugs within his body.  
|| Plug-In ||
Wattson does not have a right hand, but instead a plug, which he uses to attach various weapons, armors, and/or items. This is the only natural plug in his body, which he has control over like any of his other limbs. It can extend from his arm, an additional arm-length.
|| Nine-Volt Battery ||
Unlike organic beings, Wattson can only be sustained from electricity. Because of this, he has accommodated his body with magic and weaponry, designed to help properly introduce, and absorb, electricity into his body.
Inventory
|| Switchblade ||